Mdt Medientechnik GmbH
VisionAd S.Ã r.l

1 - rue Kummert
L-6743 Grevenmacher
Luxembourg
Tel. 00352 - 26745604
Fax 00352 - 26745605
info@visionad.lu
Commercial Registry: B112662
VisionAd S.Ã r.l
Digital Signage Software
---
VisionAD is your experienced partner for Digital Signage

Never before, the need of an effective visual communication technologies has been as high as in the digital world of today.

Indoor advertisement, commercials at the Point of Sale, airports, train stations and hotels, sport- and visitor-centers, museums, exhibition- and conference- rooms; all these areas are related to Digital Signage that achieves a direct and effective impression with the audience.

Nothing suites this better than our powerful CMS software Screen-Editor .

Our smart and scalable Content Management Cloud allows you to quickly and easily transfer the content to your tablets, touchpads, screens and multi-screens.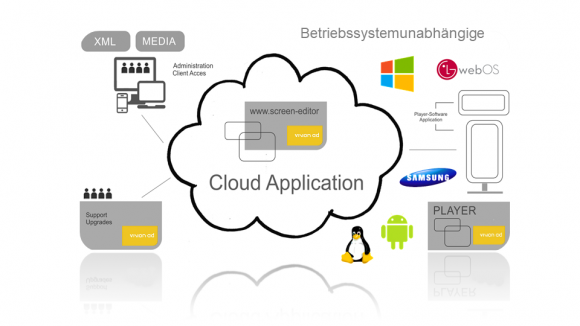 Applications
Commercial banks and saving banks
Travel agencies, real estate broker and petrol stations
Waiting rooms in doctor's practices
Pharmacies and drugstores
Gyms, car dealerships and fast food-restaurants
Presentation-media in reception areas
Colleges and universities
Tradeshows and exhibitions
Visitor guiding-systems
Shopping malls and retail stores
etc...
References